By Anonymous, Mother
It can't happen to me and my kids.  That is what I kept telling myself. Well it can happen and it did happen.  
I would like to say that there has only been one instance that my daughter was propositioned for explicit images and videos via Instagram direct message, but that would be a lie.  Once I found the "finsta" account, I was put on high alert to monitor her social media accounts more closely and quickly realized Instagram was no friend of mine, or any parent. The parental controls are non-existent and the amount of inappropriate images and content are way too easy to innocently stumbleupon.  
I became obsessed and researched some of the accounts that were following her account and discovered that there were multiple individuals that were 20, 30, 40 and even 50 yrs. old that were complete strangers. Why would adults want to follow a minor's account? One guess. It was not because they are looking for an innocent friendship.  They were not trying to "save" my daughter from all the other perverts out there. No more Instagram.
After becoming a social media outcast from Instagram, my daughter pleaded with me to open a SnapChat account which I had been holding off on for as long as possible.  She sold SnapChat as a way for her to talk with her friends from school and make new friendships with people here locally. My husband felt sorry for her and thought she was mature enough to handle it.  I reluctantly let her create an account with what I thought was secure settings but I soon found out that secure settings don't exist in SnapChat either.
She was recently propositioned by someone with the screen name Jack Smith.  Jack messaged her and asked if she wanted "to make a little or a lot of money". Once she informed the person that she does not do that, he let her know that "he had messaged her under a fake account because he knew she was under age and he was not trying to get arrested".  When she took a screenshot of the conversation, the Jack Smith account disappeared. SURPRISE!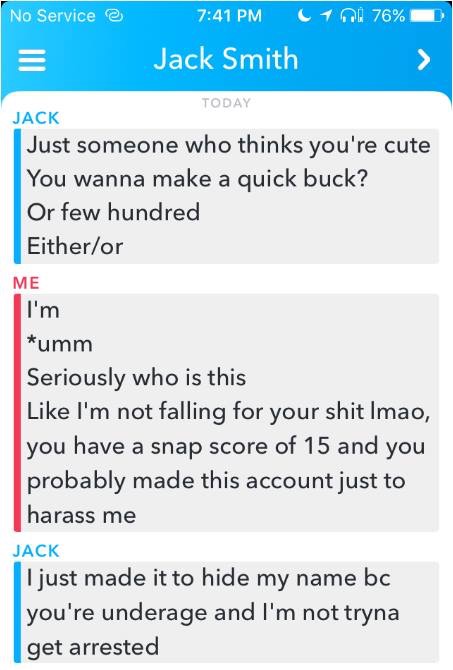 As a concerned parent for all innocent kids on social media, I took the screenshot of the conversation and sent it along with a strongly worded letter to Snapchat (Snap, Inc.).  The response I received was less than impressive. There is no way to track a predator that uses fake accounts to solicit inappropriate information. They told me to block the account and send them the Snapchat Username for them to investigate.  We don't have the Snapchat Username, because the person immediately deleted the fake account once they were notified she took a screenshot of the chat.
I currently use several parental control apps and services to keep her safe online, but none are perfect.  My advice for parents of tweens and teens who have social media accounts is to set up some parental controls (as best you can) before you hand over the phone, tablet or computer. Take the time to really have the conversation about online safety with your kid and have that conversation often.  My daughter admits that it does help to be reminded every so often about the dangers of the online world.
Reminder, you cannot unsee things and the internet is forever.