By Natasha Sriraman, Mother
(NOTE: This Mother's piece accompanies her daughter's story which can be read here)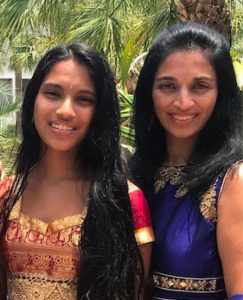 Sexual assault, sexual harassment, inappropriate touching, sexist remarks.
Celebrities, waitresses, housekeepers, nurses, physicians, lawyers.
There are so many instances. Women of all ages, all walks of life, and in all stages of life are affected by sexual violation. This has become known as the #MeToo movement.
While the celebrities brought these stories to light so many brave women, even those who would face adverse outcomes, told their stories. And luckily in most cases the outrage was swift, punishing the men who perpetrated these crimes. And while these brave women stood strong and told their stories loudly there were many men, so many supportive men, who had not realized how deep and pervasive this problem was (including my husband). Those men stood by, supported, and helped women speak their truth.  
As an Indian woman who has lived in multiple countries and cities while I completed college, graduate school, medical school and residency, being approached by male peers, being catcalled/whistled at while walking down the street, or being inappropriately touched has been happening to me for as long as I can remember. Unfortunately, many in our generation of women were not necessarily taught by our mothers/aunts/grandmothers that this behavior is inappropriate. Yes, I was taught about outward sexual advances, such as don't leave your drink unattended, don't walk alone at night, etc., but the seemingly innocuous sexual advances, the innuendos, were never really addressed.
I remember the first time 2 years ago when multiple #MeToo stories were coming out, including the 'grab the pussy' news story by one of the presidential candidates. I had a visceral reaction. While thankfully I have not been a victim of sexual assault, I flashed back to my residency and remembered a time when an attending inappropriately touched me while I was on call with him one night. It just made me feel…nauseous. But I didn't feel that it was a real #MeToo story.
As a mother of 3 I keep the lines of communication with my children open as best as I can. I talk to my daughters about the behavior of boys, how to remain safe, don't go anywhere alone. I talk to my son about respecting a girls personal space, etc.
So when my daughter told me what happened during our Caribbean vacation, I was horrified, saddened, and so so mad. I felt terrible that I didn't notice how the waiter was behaving towards my daughter. When she told me later that night in the hotel room I immediately hugged her and apologized. I literally wanted to march back to that restaurant to tell the owner and hold that waiter accountable.
While she said she was fine, I told her how sorry I was that she felt unsafe. I suggested to her that we have a code word/phrase (or maybe a Hindi word) so she can use it when she feels unsafe or worried and needs me to intervene. While she is such a brave and strong young lady, she was visibly shaken. I told her that it was NOT her fault, that some men unfortunately feel that it is their right. I then told my husband so that he would not only know but also so that he would be more cognizant of these situations as his daughter becomes a woman.
My advice for parents as a mother and pediatrician – please have these talks with your children, both boys and girls. Unfortunately it happens all the time, and while the #MeToo movement is ongoing there are still many people of both sexes that do not realize those 'innocent' comments or light brushes of the hand across a buttock or chest are not okay. It's not 'just an accident.'  
My advice for kids/teens. Please, please, please tell someone you trust. Tell a parent, relative, teacher, counselor, family friend or peer. It will never be an inconvenience and you will be believed. Please don't ever feel guilty or blame yourself. Just walk away and get to somewhere you feel safe and out of harm's way.
When my daughter decided to write a #MeToo piece, I thought she was going to write about an incident that happened to her favorite singer, Arianna Grande. Arianna was grabbed by the pastor during the funeral service of Aretha Franklin. Instead, she wanted to tell her story, and I'm glad she did. After reading her piece we discussed the incident again. I told her about some of my experiences hoping to show her that while it can happen anytime and anywhere it is the fault of that person. I told her not to feel guilty about not yelling/standing up to that person in that situation.  
I hope my daughter's story can help young people out there; whether it is to trust someone enough to tell their story or by helping them feel strength as they stand up to prevent their #MeToo moment.