By Dr. Avian Tisdale, AKA Dr. Honeymom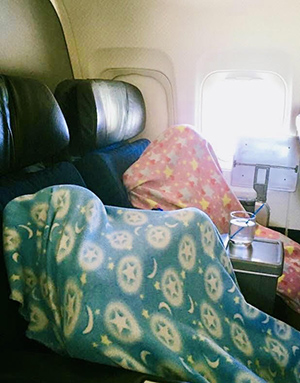 I remember the first time we flew with our oldest.  She was about a year and a half old and we were headed to Florida.  We packed her favorite snacks, chose an evening flight, and did our best to let her run off every ounce of toddler energy she had before heading to the airport.  She was amused by the take off and ate her snack in peace. This is peak parenting I thought to myself……. a bit too soon. 'Okay time to go night night' I said positioning her to rest in my lap.  She spent the next 2 hours running across our laps, clapping plastic cups together, and singing every song she knew. Every single song. As soon as we arrived at the gate she climbed into my husband's lap and went to sleep. True story.  Did I mention how exhausted we were from working long hours in the operating room and hospital that week, and I was 4 months pregnant?  
That experience reminded me of two things I'll always stay transparent about with you: being a pediatrician does not make me a better parent and no parent truly knows what they are doing.  We are all doing our best to figure it out. I need you to trust me when I say in my line of work meet all kinds of parents from every background and profession you can imagine. When it comes to children, we are all sitting in the same corner of cluelessness with a deep relentless fear that we are getting it wrong. That includes pediatricians. 
So how do we fly the friendly skies with children without losing our minds, especially if they are sick?  Here's what you need to know:
Medication, Don't Leave Home Without It
If your child takes medicines daily for any condition be sure to fly with plenty of it in your carry on.  If you typically use a nebulizer, discuss inhalers with your pediatrician. When used properly with a mask and chamber they are just as effective and easier to bring along.  Other life saving medicines like Epi-pens and as needed seizure drugs are important to have in your airline approved personal item (baby bag, purse). At least one fever reducer, anti-itch cream, and allergy medicine always travel with our family.  I vote for chewables whenever possible. All these items in the right size (3.4 ounces of liquid or 1-quart size clear plastic bag) are just fine with the TSA. 
Travel is exciting for everyone and can easily throw off a child who's finally settled into a sleep routine.  This is especially tricky with changing time zones and international travel. Talk to your pediatrician about the appropriate use of over the counter sleep aids that are safe for children.
In addition to standard vaccines used to protect us from communicable illness, there are vaccines recommended for folks travelling to specific international destinations.  Your pediatrician is the best source for information regarding the risks and benefits.  
Wherever you find people you will find germs.  Every airport has them and you can safely assume at least 30% of travelers are sick with something you and your children can catch. Take advantage of the travel size section and stock up on Lysol, hand sanitizer, and wipes.  These products aren't foolproof but, poor hand washing is still a leading cause of illness around the world. When she was little my oldest enjoyed being in charge of dispensing hand sanitizer when we travelled. She also shared it with a few strangers from time to time.  
Whether travelling about the U.S. or overseas, take a few minutes to look up places to go if your child gets sick.  Snap a screenshot and save it just in case. It's a small effort that can save a lot of time, worry, and money if you need care away from home. 
Resist the urge to pack the entire nursery/playroom for your trip.  Working in the emergency room I've seen parents lug in everything from air purifiers to rocking chairs and balloons.  Yes balloons, in the emergency room. I'm always fascinated by how they fit all that stuff in the car. Think about it this way; whatever you bring with you will bring all kinds of germs back home with it.  Try your local dollar store for cool kid and TSA friendly games. 
Most airlines allow children 2 or younger as lap children.  The FAA recommends forward-facing hard back child restraint systems.  Many car seats meet this requirement already. The FAA website has great information on the safest harness types, how to install on the plane, and more.  Check it out at https://www.faa.gov/travelers/fly_children/
The Only Thing to Fear Is Being Taught to Fear Everything
Children are humanity in its purest form, that is the reason I love pediatrics! In many cases they aren't afraid until we teach them to be.  Of course, our biggest responsibility is keeping children safe and that means making sure they avoid things that may harm them. Air travel remains the safest in the world.  Young babies and children can become familiar with photos, videos, and creative play about airplanes to minimize fear ahead of your trip. Talk up the trip with excitement for older children.  Airports are busy and can easily overstimulate small children. Sitting at an inactive gate for a moment or a quick trip to the restroom onboard may help a child who is just a bit overwhelmed.
Summer is the busiest vacation season and I treat families who are headed out of town or visiting every day.  As previously mentioned, when folks find out what I do they always have a few 'since you're a doctor and you're here' questions. Here are my top 3 with answers:
If my child has _______ can they still fly?
If a child is unstable or severely ill, they should be in the care of a professional and should not travel. Any child with a fever is contagious and you should always consider the risk of getting yourself and others sick in addition to potential complications from their illness with your pediatrician.  Otherwise there are no concrete 'do not fly' restrictions, including age for children. Ear infections are the most common concern and their timing with vacations in impeccable. Ear drums commonly rupture from infection and the same risk is present if a child boards a plane while being treated. Children without ear infections can also experience discomfort after takeoff.  While flying with an ear infection isn't likely to affect their treatment, it's difficult to predict how they will respond to discomfort. I recommend giving an over the counter pain reliever at least 30 minutes prior to boarding. Keep a plastic straw handy for older kids to blow in or try feeding babies to relieve pressure. Give your pediatrician a heads up about your travel plans so that if possible, we can prescribe something that doesn't require refrigeration.  If your child is inconsolable at home from pain or the eardrum is already ruptured, it's likely best to delay your trip until they are feeling better.
What if my child gets sick on the plane?
Mild symptoms like a runny nose, congestion, cough, and stomach upset are common and they happen on airplanes every day.  Soothe your child as best you can with what you have and consider professional evaluation once you land. Flight crews are expertly trained to manage in- flight medical emergencies of all kinds.  Re-assure yourself that emergencies are unlikely however, the crew is prepared if they do.
What's the best way to entertain children?
Like most children ours enjoy movies and games on electronic devices when we travel.  My daughter was the official photographer on our first overseas trip. I let her use an old phone and she photographed everything she saw.
Pro-tip: Make sure the Wi-Fi is off.  When we got back, I discovered she i-Messaged several photos of the baggage claim belt to my boss, lol!
We would go on scavenger hunts around the terminal looking for all sorts of things and find a great spot to watch planes take off/land.  Good old-fashioned crayons, stickers and coloring books are great! Ask them to make something special as a thank you to the flight crew. I met a Mom who brought squares of Velcro and small cotton pom poms from the craft store on board. Her toddler stuck them on and off for 2 hours and went straight to sleep.  Pure genius, inexpensive and TSA approved.
Despite your best efforts you may still find yourself facing a meltdown with your mini-me or remember you left something after takeoff.  Know that you aren't the only parent in that situation and it likely won't be the last time.  
Take it easy on yourself and use your experience to show empathy toward other parents during your travels. Doctors' orders.
Dr. Honeymom
P.S. Here's a photo of my kiddos during a trip 2 years ago.  I don't know why they covered themselves like that but, whatever works.
###
Avian "Dr. Honeymom" Tisdale has been an acute care pediatrician for over a decade and is board certified by the American Board of Pediatrics. She is also an accomplished healthcare executive and professional speaker. When not answering the call of doctor, wife, and Mom she enjoys spending time in her garden and travelling the world. You can follow her on her FB page at https://www.facebook.com/Drhoneymom/
Photo by Shawn Fields on Unsplash